L-Acetylhydroxyproline
L-Acetylhydroxyproline is the acetylated derivative of L-hydroxyproline. It has been used in Europe (Germany and France) as an. L-Acetylhydroxyproline is used in the cosmetics industry in Japan.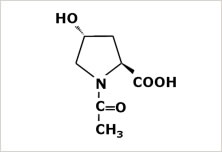 "Reduced inflammation in minor atopic dermatitis patients with lowered perspiration." (Hashizume E, et al., Clin Cosm Investig Dermatol. 2013;6:43-9.)
"Increased ceramide amount by improving incidence of ceramide synthase gene (in three-dimensional skin model)." (Hashizume E, et al., Clin Cosmet Investig Dermatol. 2013;6:43-9.)
"Improvement of osteoarthrosis." (Krüger K, et al., Clin Exp Rheumatol. 2007;25(1):29-34.)
"Treatment of skin ulcers." (Pasolini G, et al., G Ital Dermatol Venereol. 1988;123(10):493-6.)
Note: While information regarding substances and components shown here is based on scientific data, it does not relate to the safety or effectiveness of products which use them. Statements relating to consumer products should conform to the clauses of relevant legislation such as the Health Promotion Law and The Pharmaceutical Affairs Law in each countries and areas.