Our production sites are located in Japan, the United States, and China. We supply customers around the world with raw materials such as amino acids, nucleic acids, and antibiotics for the production of drugs and health foods essential for people's lives. Our employees at each production site actively work to assure the safety of our products and maintain a stable supply.
Yamaguchi Production Center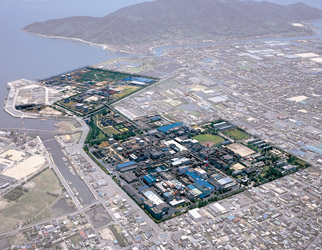 Hofu, Yamaguchi Production Center
The history of the Yamaguchi Production Center dates back to 1949, when the Hofu Plant of KYOWA HAKKO KOGYO was established. It was here that KYOWA succeeded in producing alcohol and the mass production of streptomycin for the first time in Japan. By constantly adopting the latest technologies, we developed the world's first fermentation method for producing L-glutamic acid. We succeeded in industrializing L-glutamic acid and began its mass production. We have since then been leading the world in biotechnology for more than half a century.
SHANGHAI KYOWA AMINO ACID CO., LTD.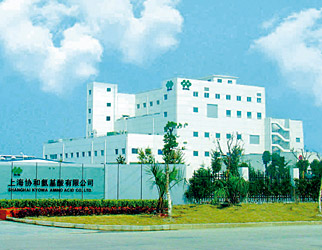 SHANGHAI KYOWA AMINO ACID CO.,LTD. (Shanghai, China)
SHANGHAI KYOWA AMINO ACID, a facility located in the Qingpu Industrial Zone near Shanghai, produces and supplies amino acids used in pharmaceuticals and health foods. All production at the plant is governed by the GMP quality assurance system based on the latest technology developed by KYOWA HAKKO BIO in Japan, and the plant is committed to meeting the various needs of customers around the world.
BIOKYOWA., INC.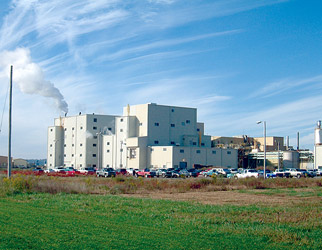 BIOKYOWA, INC. (Missouri, U.S.A.)
BIOKYOWA, a facility located in Cape Girardeau near the Mississippi River in southeastern Missouri, uses the latest technology developed by KYOWA HAKKO BIO to produce various kinds of amino acids for pharmaceutical intermediates, health foods, and industrial use under the ISO9001 Quality Management System. BIOKYOWA provides high-quality products for customers not only in the United States, but also in Asia and Europe.
THAI KYOWA BIOTECHNOLOGIES CO., LTD.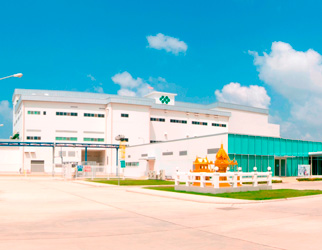 THAI KYOWA BIOTECHNOLOGIES CO., LTD.
(Rayong , Thailand)
The market for amino acids has expanded rapidly in recent years, due to a worldwide growth in the pharmaceutical, medical and healthcare markets, and this trend is expected to continue. The amino acid market in the Asian region in particular is growing rapidly due to the Westernization of lifestyles, as well as population growth and economic development. Based on the projected increase in demand, Kyowa Hakko Bio intends to establish a production site in Thailand with the most up-to-date manufacturing technology, to complement its existing production sites in Japan, China and the USA. The aim is to further strengthen Kyowa Hakko Bio's amino-acid related commercial activities, by providing a stable supply based on high-quality production in multiple production sites, with advanced technology and best-practice management techniques to help achieve increased satisfaction and reliability for our customers.