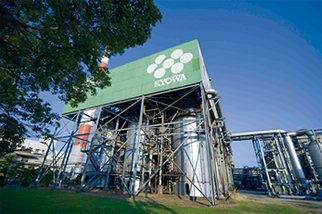 Kyowa Hakko Bio considers the environment, safety, quality assurance, and social contribution as important management subjects, under the leadership of Kyowa Hakko Kirin's top management.
Kyowa Hakko Kirin publishes an annual "Sustainability Report" summarizing the group's activities that contributed to society. In 2008-9, Kyowa Hakko Bio sponsored or participated in various activities including volunteer support to local communities hit by torrential rains in Japan, employment of workers with disabilities, reducing emission of carbon dioxide at our plants, promoting the environment-friendly livestock industry, water pollution prevention at all of our global plants, and upgrading liquid-waste treatment facilities in China.
For further details on Kyowa Hakko Bio's activities, please refer to the "Corporate Social Responsibility" pages.