Kyowa Quality Brand Story
The Kyowa Quality (KQ) brand consists of an extensive line of ultra-pure amino acids and related compounds supplied by KYOWA HAKKO BIO CO., LTD. (KYOWA), a global leader with over 60 years of manufacturing expertise and a reputation for rigorous quality assurance. With its innovative fermentation technology built over the years, KYOWA has become a trusted pioneer in the healthcare field, making substantial contributions to the health and well-being of people around the world.
The KQ family of ingredients are manufactured to meet high quality assurance standards, supplying quality and trusted materials for various industries such as pharmaceuticals, foods, and cosmetics.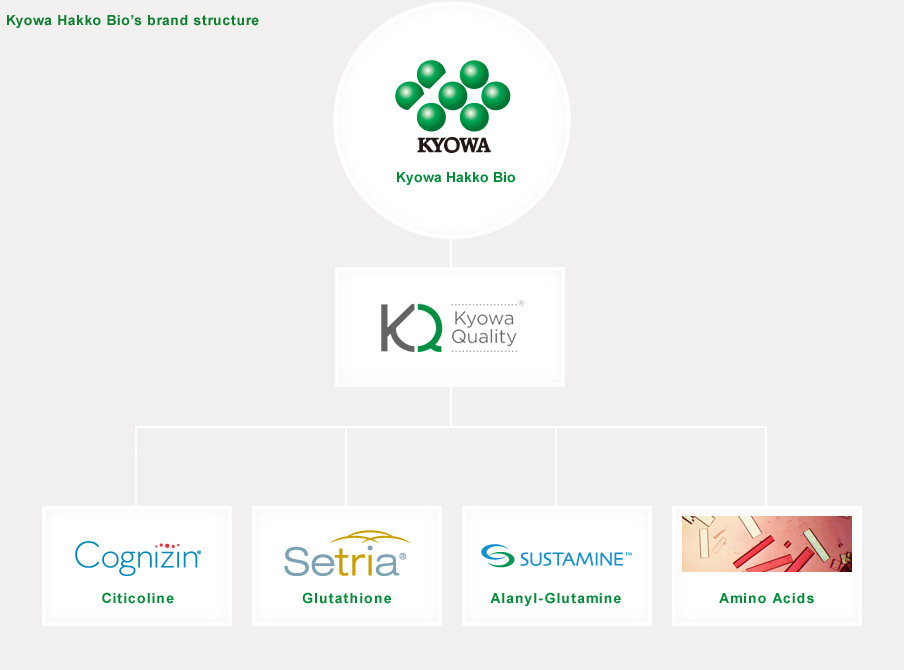 Brand pillars
Quality first
The KQ brand delivers consistently pure and efficacious products by leveraging KYOWA's 60+ years of manufacturing expertise based on its rigorous quality assurance standards. Quality assurance forms the core of the KQ brand, influencing decisions in product development, manufacturing, marketing, and sales. By putting quality first, KQ assures formulators and manufacturers of a reliable, high-quality product with consistent performance.
Technologically advanced
KQ is dedicated to the pursuit and implementation of new technologies for: (1) producing unique, biologically active compounds; (2) refining products to eliminate impurities; and (3) reducing the environmental impact of our manufacturing processes. Beginning with our core fermentation technology for the industrial production of amino acids and extending into the discovery of a novel method for forming di- and tri-peptides, KQ continues to lead the industry in developing new technologies that improve ingredient performance with guaranteed quality.
Pharmaceutical grade
KQ offers bulk pharmaceuticals and pharmaceutical-grade amino acids, nucleic acids, organic acids and other related compounds. Our products are compliant with the requirements of major pharmaceutical official monographs; Japanese pharmacopeia (JP), Pharmacopoeia of the United States of America (USP), European Pharmacopoeia (EP). Our high-quality bulk API (Active Pharmaceutical Ingredient) is sold to pharmaceutical companies around the world. KQ technologies and products for pharmaceutical applications include:
APIs
Cell culture medias
Cosmetics
Dietary Supplements
Drug intermediates
Medical foods

Food Ingredients
Consistently pure
KQ is committed to producing pure products of the highest quality, used for life-enhancing benefits. Decades of research and refinement have gone into developing our standards and methods of purification. Many products are Kosher and Halal certified.
Backed by science
KQ products are based on scientific research. As a KYOWA brand, KQ products benefit from KYOWA's long-standing commitment to research, including an on-site research and development staff. Studies on the human health benefits of KYOWA products have been published in peer-reviewed journals and cover a broad range of topics.
Extensive offering
The KQ family of ingredients includes many kinds of amino acids, nucleic acids, and related compounds. This extensive offering is not available from other companies and provides considerable benefits to formulators. All KQ products are backed by the same standard of excellence that has come to be associated with the KYOWA name.
Ingredients you can trust
KQ is backed by KYOWA, an international health ingredient manufacturer and a world leader in the development, manufacturing and marketing of nutraceuticals, pharmaceuticals and food products. KYOWA is dedicated to ongoing scientific research, quality management, and consumer education, and expends considerable resources in testing the efficacy, safety, and reliability of its products. This dedication has come to be known world-wide and represents the promise of consistent quality and purity.