June 12, 2015
Glutathione Science Seminar completion at 12th Asian Congress of Nutrition(ACN2015)
KYOWA HAKKO BIO Co., Ltd. (Chiyoda-ku, Tokyo, President and CEO: Chikakuni Kotani) held a luncheon seminar titled 'New Functions and Future Directions of Glutathione' at the 12th Asian Congress of Nutrition (ACN2015) on May 16th, 2015.
ACN is held just once every four years in an Asian country and it's an important opportunity for researchers to gather and share the latest information. As a result, many students and researchers from enterprises, universities and various research institutes not only in Japan, but in many Asian countries participated in our seminar.
Glutathione is used as a pharmaceutical ingredient in Japan, but it is used as an antioxidant dietary supplement in the US. In Southeast Asia, especially Thailand and Philippines, it is well known as a skin whitening ingredient and used in beverages and cosmetics.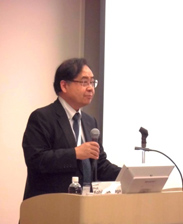 In the seminar, we invited Hideyo Sato, ph.D., professor at the Faculty of Medicine, Niigata University, as a chairperson, and Kohji Fukunaga, Ph.D., professor at Tohoku University Graduate School of Pharmaceutical Science (photo), gave a lecture with the latest results of our collaborative research for a large audience.
After the lecture, cross-border and active discussion were held by the attendees, and the seminar was completed in success.
During ACN2015, we opened a booth in the exhibition hall and introduced the mechanisms of glutathione and ornithine focusing on academic information and research results. We appreciated many participants visiting our booth.
KYOWA HAKKO BIO will continue to work as a global company in order to contribute to the health and well-being of people around the world through pharmaceuticals and dietary supplements/foods
Terms & References
Glutathione: It is a tripeptide comprised of glutamic acid, cycteine, and glycine. It exists in almost every cell in the body, playing a role in the detoxification and excretion of drugs and xenobiotics. Furthermore, reduced glutathione has an important role as an antioxidant for protecting the body from oxidative damage.
It is known that glutathione levels in the body decrease depending on age and disease. From the clinical study, it is indicated that oral glutathione intake increases the glutathione levels in the body*1. Moreover, glutathione has long been known as a melanin production inhibitor, and finally it was shown that topical glutathione usage lightens the skin in a human*2. 
Further Glutathione research and development are expected.
*1 Eur J Nutr. 2015 Mar;54(2):251-63.
*2 Clin Cosmet Investig Dermatol. 2014; 7: 267–274.