August 5, 2016
KYOWA HAKKO BIO Co., Ltd. held the 1st Meeting for Glutathione Sciences in Japan
KYOWA HAKKO BIO CO., LTD. (President and CEO: Chikakuni Kotani), held the 1st Meeting for Glutathione Sciences in Japan on April 28th, 2016. Glutathione is used as a pharmaceutical ingredient in Japan, and is used as a dietary supplement for antioxidation, detoxification, and skin whitening in Western and Asian countries. In order to provide interest in glutathione studies for more researchers, we therefore set up an opportunity to discuss the benefits of glutathione intake for our health. Forty eight people attended the meeting and discussed new findings and the future direction of glutathione studies.
We hope to have the opportunity to hold this meeting in other countries in the future.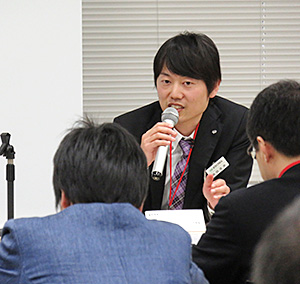 Date: April 28th, 2016
Time: 14:00 p.m.-18:30 p.m.
Place: Trust City Conference Marunouchi (Tokyo, Japan)
Chairperson: Junichi Fujii, Ph.D. (Professor, Department of Biochemistry and Molecular
Biology, Graduate School of Medical Science, Yamagata University)
Hideyo Sato, Ph.D. (Professor, Department of Medical Technology Faculty of Medicine, Niigata University)
14:00- Opening remarks by chairman, Junichi Fujii, Ph.D.
14:05-14:30 Introduction
Title: Physiological function and metabolism of Glutathione
Speaker: Masahiko Morita (Researcher, KYOWA HAKKO BIO CO., LTD.)
14:30-15- 05 Presentation 1
Title: Protective effects of oral glutathione on fasting-induced intestinal atrophy.
Speaker: Hiroyuki Uchida, Ph.D. (Associate professor, Division of Pathophysiology,
Department of Clinical Dietetics and Human Nutrition, Faculty of Pharmaceutical Science, Josai University)
15:05-15:40 Presentation 2
Title: Electrochemical application for in vivo GSH measurement on boron-doped diamond electrodes.
Speaker: Yasuaki Einaga, Ph.D. (Professor, Department of Chemistry, Faculty of Science and Technology, Keio University)
Break (15 min)
15:55-16:30 Presentation 3
Title: Dynamics and neuroprotective action of glutathione in the cerebral infarction.

Speaker: Kohji Fukunaga, Ph.D. (Professor, Department of Pharmacology Tohoku University, Graduate School of Pharmaceutical Sciences)
16:30-17:00 Panel discussion
17:00-18:30 Networking cocktail party
We strive to contribute to the health and well-being of people around the world by creating
new value through the pursuit of advances of life sciences and technologies.
More information:
KYOWA HAKKO U.S.A., INC.
Setria® Glutathione