August 8, 2016
Glutathione Seminar Completion at The 9th International Conference on the Biology, Chemistry, and Therapeutic Applications of Nitric Oxide/The 16th Annual Scientific Meeting of the Nitric Oxide Society of Japan
KYOWA HAKKO BIO CO., LTD. (President and CEO: Chikakuni Kotani) sponsored a luncheon seminar titled 'Impact and Functional Advantage of Glutathione for Boosting NO Bioavailability' at The 9th International Conference on the Biology, Chemistry, and Therapeutic Applications of Nitric Oxide/The 16th Annual Scientific Meeting of the Nitric Oxide Society of Japan. Kohji Fukunaga, Ph.D., professor at Tohoku University Graduate School of Pharmaceutical Science, made the presentation about the latest findings of Glutathione studies. Nearly one hundred academic researchers attended the seminar and became more interested in the function of Glutathione and Nitric Oxide (NO).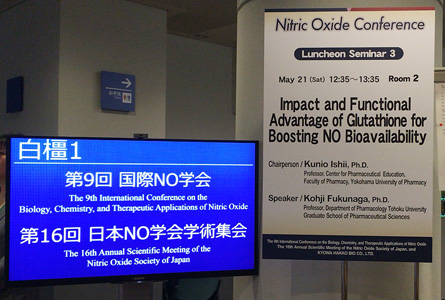 Date: May 21th, 2016
Time: 0:35 p.m.-1:35 p.m.
Seminar number: Luncheon seminar 3
Place: Sendai International Center, Shirakashi Conference Room 1
We strive to contribute to the health and well-being of people around the world by creating
new value through the pursuit of advances of life sciences and technologies.
More information:
KYOWA HAKKO U.S.A., INC.
Setria® Glutathione